The Fall Quarter 2016 Financial Aid deadline has been extended until July 22nd. Learn more about the Financial Aid process at http://www.cptc.edu/financial-aid.
Skip to main content
Sustainable Building Science
Our Sustainable Building Science students get hands-on experience with residential construction.
Get More Info
Visit the Program
Our next program info session for Sustainable Building Science is July 27 at 3 p.m. in the Building 5 lab . Come meet the instructors, see the classrooms, and learn how you can get started!
How Much It Costs
For program costs, visit the Tuition and Fees page.
Costs are estimated and are not guarantees.
You can learn more about financial aid and scholarships right here. Or view our full tuition & fees breakdown.
How Long It Takes
Sustainable Building Science Degree: 5 quarters
Construction-Residential Certificate: 2 quarters
All program lengths are estimates and are not guarantees.
Potential Careers
Home Energy Auditor
Median annual pay in Washington: $66,100 per year.
Construction Apprentice
Median annual pay in Washington: $28,800 per year.
This is not a guarantee of employment or a certain wage. Full career data available at careerinfo.net
What You'll Learn
How to identify and evaluate building systems.
How to design and integrate renewable energies into the building.
How to identify and integrate green building practices into the construction industry.
And more. View all program outcomes.
Stories About Our
Sustainable Building Science

Program
Sustainability in the Community
Sustainable Building Science instructor Dan Smith is designing and building a community structure with the help of his students.
Building to Sustain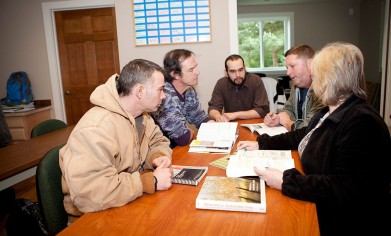 Sustainable Building Science is about taking action that meets the needs of people, profit and the planet while sustaining natural resources for the future.
Degrees & Certificates
In this program we offer a Sustainable Building Science Degree (with both an AAT and an AAS-T option) and a Residential Construction certificate. Click the links to find out more!
Sustainable Building Science Degree (AAS-T)
Meet the Instructors
Dan Smith
Dan Smith has a bachelor's degree in economics from Western Washington University and is a graduate student at UW Tacoma. He has been teaching for seven years, is a tenured instructor, and was a guest speaker at Greenbuild 2012. Dan serves as the CPTC Sustainability Committee chair person, performs weatherization testing and diagnostics for Rebuilding Together South Sound, and has participated in solar installation for the Tacoma Habitat for Humanity. He was a remodeling contractor for twenty-five years.
Contact Dan Smith
daniel.smith@cptc.edu
253-589-6070